LBS News
There's a lot happening in our vibrant school district! From events taking place at school to public information notices, we've included all the latest events here on one page. Make it your first stop when you visit our website to ensure you are always aware of what's happening at Lebanon Borough School.
Check out Our Newsletter!
Visit our News page often to read our newsletter and to stay up to date with everything we have going on at school!
New Jersey Week of Respect
Each year the first full week in October is New Jersey Week of Respect. All schools in the state work to bring attention to the character trait of respect and combat bullying during this week. One of the ways that we do this each year is to designate theme days for each day of the week. Our daily themes are:
Monday, October 3: Wear blue for World Day of Bullying Prevention
Tuesday, October 4: Stronger as a Team Day - Wear your favorite sports team apparel.
Wednesday, October 5: Show your Uniqueness Day - Wear something that shows what makes you, you!
Thursday, October 6: I'm Comfortable Being Me Day - Wear your comfy clothes.
Friday, October 7: Our School is Unique, But We Are All United Day - Wear your school spirit gear or school colors.
These types of days provide us with an opportunity to be silly and unified as a school and help to truly show that we are better together!
No School
There is no school on Monday, October 10 due to a teacher in-service day. Enjoy your long weekend!
School Picture Day
School picture day is on Friday, October 14. Dress your best, and be ready to smile!
Halloween Parade
Our Halloween parade will take place on Monday, October 31 at 9:00 a.m. We are looking forward to a spooky day!
International Walk to School Day - IWALK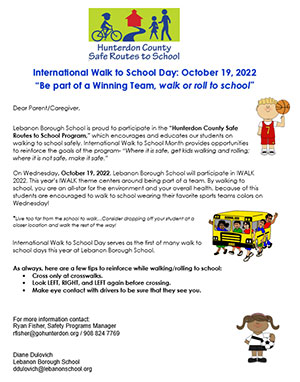 On Wednesday, October 19, 2022, Lebanon Borough School will participate in IWALK 2022. This year's theme centers around being part of a team. International Walk to School Day serves as the first of many walk-to-school days this year at Lebanon Borough School.
As you are walking/rolling to school, remember to:
Cross only at crosswalks.
Look left, right, and left again before crossing.
Make eye contact with drivers to be sure that they see you.
Substitutes Needed
We are in need of more substitutes for the 2022–2023 school year. If you or someone you know are interested in subbing please contact the school office (908) 236-2448 to get information on applying for substituting as a:
Teacher
School Nurse
Paraprofessional
PaySchools Central
PaySchools Central allows you to fund your student's account safely and easily online. You can pay school fees, manage student meal accounts, buy school event tickets, and more. Please see below for additional information.