LBS News
There's a lot happening in our vibrant school district! From events taking place at school to public information notices, we've included all the latest events here on one page. Make it your first stop when you visit our website to ensure you are always aware of what's happening at Lebanon Borough School.
Check out Our Newsletter!
Visit our News page often to read our newsletter and to stay up to date with everything we have going on at school!
Join Our PTA
Our PTA is a wonderful organization that works in conjunction with the school to provide students with enriching opportunities that could not happen without its support. Field trips, assemblies, family events, supplies, and equipment are just a few of the many ways that our PTA supports the children of Lebanon Borough. Please be sure to join the PTA! Fill out our membership form today!
Walking School Bus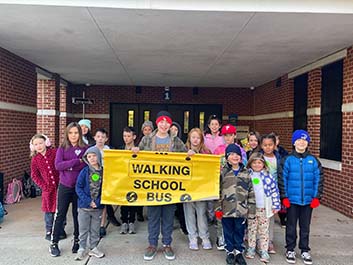 On Wednesday, October 19, Lebanon Borough School celebrated International Walk to School Day by participating in the "Hunterdon County Safe Routes to School Program," which educates our students on walking to school safely. Students received a sticker for coming along. It was a great turnout!
Caring is Our New Character Trait
October was a busy month! The students celebrated Respect Week, Anti-Violence Awareness Week, and Red Ribbon Week. During the Respect Week and Red Ribbon Week, the staff and students showed their school spirit. LBS stood united on respect, anti-bullying, anti-violence, safety, and were united against drugs. For the months of November and December, our character trait is caring. Our focus as a school community towards one another will be kindness, compassion, gratitude, forgiveness, and helping people in need.
Office Items
Please be sure to log in to Realtime Parent Portal to complete the forms. Report cards will not be visible in the portal unless these forms are complete. If you need your login credentials, please email Mr. Arcurio.